Furnace Repair Services
The Furnace Service Denver Area Residents Trust
Your furnace was built to last. But just like your car, a little TLC can go a long way and improve the longevity of your furnace. Frequent furnace maintenance should serve you well enough, but when those inexplicable instances happen where your furnace stops working, you'll want the furnace repair experts on your side. With Premier Heating and Air, we can be that partner for you. You can trust our NATE certified technicians to get the job done right, and if you should experience any further problems, even after we've repaired your furnace, we offer our 100% satisfaction guarantee, and we'll take care of it for you. 
---
Why You Should Call Premier Heating and Air for Furnace Repair in Denver
Many people put off calling about furnace repairs because they are concerned about the cost. There is a much higher cost when you allow repairs to be delayed for too long. Small issues can become major repairs and leave you holding a much larger repair bill. Contacting our team as soon as you suspect you need our furnace repair services in Denver will keep your heating system working better, longer.
When your furnace ceases to function properly, you might be hesitant to make a furnace repair service call. We get it, for most people, it's a matter of affordability, and is often the deterrent for making the call. However, with Premier Heating and Air, you get:
Competitive
Rates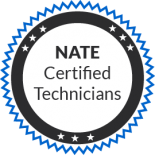 NATE Certified Technicians
100% Satisfaction Guarantee
24 Hr. Emergency Service
Quality service that's dependable at an affordable cost, guaranteed. You can't go wrong with us. We'll also take care of your furnace maintenance so you can get more from your unit.
---

Save $89
on Diagnostic with Repair
Must mention Internet Special
---
Signs it's Time to Call About our Furnace Repair in Denver
Furnace making unusual noises when operating
Unusual smells when furnace starts up
Cold or hot spots in your home
An increase in your monthly energy bills
If you notice any of the aforementioned issues with your furnace, please don't hesitate to contact the professionals at Premier Heating and Air. Acting promptly on these issues will ensure the prevention of the problem persisting or getting worse. Not only will you save more money by taking care of the problem sooner than later, but you'll save money over time, as a damaged furnace can cost you money every second it's running improperly.
---
Repairs Can Happen Unexpectedly

We've Got You Covered
With Repair Financing
Qualified Buyers
Zero Down
$500 Minimum
Minimum Payment
---
Contact our team to schedule your furnace repair in Denver!
Not only do we offer furnace repair and maintenance, but we also offer installation services that come with the same skill and satisfaction guarantee. So regardless of what you need, we can help. We welcome you to contact us if you should need any type of HVAC service for your home.
We also offer free estimates to our customers, so there should be no hesitation in scheduling a furnace maintenance call with the best HVAC repair services in Denver.
We'd Love to Earn Your Business